I'm REALLY into lip tints at the moment (I got another one today and two more are on their way to meee) and I've never really gotten into the whole
Benetint by benefit
phenomen. It tastes and smells funny in a good way (like roses) and it's not heavy on the lips or anything, but it doesn't
stain
my lips. And if a lip tint cannot do that, it's dead to me. Haha. No, but seriously. I will use it up, because I hate when cosmetics go to waste (reason why I don't buy as much make up as others out here). So this was on my lips yesterday: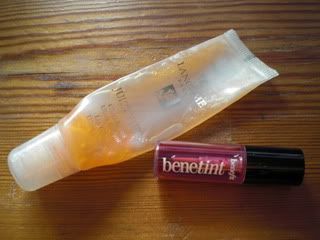 About 5 coats of
Benetint
and a coat of
Lancôme Juicy Tube
in
So Young
.
This is what it looked like: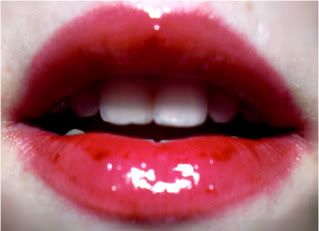 Yes, this picture is somewhat edited. But my lips are slightly cracked and that looks bad with lip tint. The gloss evens it out, but yeah. No need to expose them to the internet in their original state. But I like that picture. My lips look huge! Hahaha.
And because I wore bright red/pink lips, I decided to go for a very low-key eye make up and only wore tons of mascara and some champagne-coloured eyeshadow.
This is the result of an eyelash curler, three different mascaras and about a bazillion coats of product. Haha.
Rimmel Super Lash mascara, Maxfactor Masterpiece Max, Maxfactor Lash Extension Effect, Rival de Loop eyeshadow in '03 paris'.